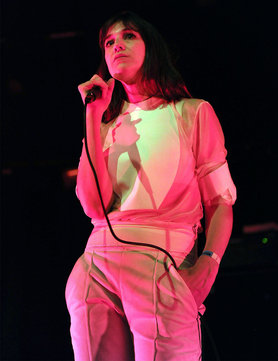 By Elle UK, July 18, 2012
Thursday sees the final evening of music at London's Somerset House as part of its Summer Series. Over the past 13 nights, the home of London Fashion Week has seen The Temper Trap, Katy B and Tim Minchin perform.
Tomorrow sees the turn of Charlotte Gainsbourg alongside Connan Mockasin who collaborated on her latest album. We asked Charlotte a few pressing questions on her visit to London.
Which places do you always visit when in London?
I tend to always go back to Chelsea just because that's where my grandmother lived and where I used to stay as a child.
You've got a distinctive Parisian style. How does style differ from London style?
I find Londoners are much freer in their style. More eccentric. But perhaps that's a cliché, having never lived there I could be looking at it through rose-tinted glasses. It does all seem more fun to me though, sometimes Parisians are a little too serious and self conscious. Parisians can be chic but that too is another cliché. Anyway styles are good as a reference but I prefer not to pay too much attention to them.
Where are you going on holiday this year?
With our children in a house Yvan and I bought a year ago on an island in Brittany.
What's next for your band Stage Whisper?
After the show in London at Somerset House, there's one in Paris in September at a festival called 'we love green'.
Will you be following or avoiding the Olympics and how? Which sports are your favourite?
I can't say I'll be following it religiously. My father in law has always enjoyed it though, so maybe I'll see some of the events with him. I used to love watching gymnastics.